Life favors the prepared.

To learn more about Survive Off Road's 4WD driver instruction and wilderness survival training in Arizona, please contact us today. Let us help you prepare for an adventure, while giving you the knowledge and skills needed to stay safe and survive in the wilderness.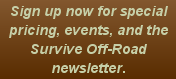 Call 602-321-0833 or email ChuckDavis@surviveoffroad.com

Survive Off Road offers four-wheel drive driver instruction and basic survival training in Arizona, Southern Utah, and Colorado. Owner and guide, Chuck Davis, possesses decades of experience in 4 wheel drive education and desert survival training, is a certified 4WD instructor and member of the International 4-Wheel Drive Trainers' Association (I4WDTA). Only four instructors in Arizona have reached this level of certification.

Chuck has extensive knowledge of four-wheel drive systems, vehicle recovery equipment, wilderness navigation, and wilderness first aid. At Survive Off Road, we offer courses for beginners and advanced students in the art and finesse of driving a four-wheel drive vehicle. In addition to 4WD driver instruction, we also provide wilderness survival training. 

Being prepared for the unexpected is essential, no one plans a survival situation, it just happens. Our courses will prepare you for basic wilderness survival should you encounter the unfortunate event of being stranded in the backcountry. Survival training provides explorers with the knowledge and skills to handle the unexpected.

This was exactly the kind of trip I built my FJC for...getting to those remote places that most folks have forgotten about. Chuck did a great job dealing with a large group of people.

Lance 

I already know how to make fire and survive but it was still fun to see the other guys learning and trying.....

Thanks a bunch for a good time Chuck...

Curt

My dad and I decided to run Poughkeepsie Gulch at the end of the day. Admittedly a little too difficult for my equipment and experience level. When we came to "The Wall", a crazy steep, rough, and tippy climb, I knew I was in for trouble. My truck ended up getting high-centered on the transfer case in a dangerous spot. Lucky for me, 

Chuck was there, and he had come prepared with the proper equipment and knowledge to get me safely unstuck and keep my 

truck from tipping. Thanks a million Chuck!

Jeff